Olena Kassian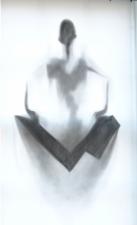 Biography
http://www.olenakassian.com/ From 2008:
I was born outside of Munich, Germany, of Ukrainian parentage, in 1947. I arrived at Pier 21 in Halifax in 1954, with my parents and a bundle of goods stuffed into a tin washtub. I had a small suitcase. And my teddy bear.
My studies have included Drawing and Painting at the Ontario College of Art, and Fine Art and Philosophy at the University of Guelph.
My work as an illustrator encompasses the worlds of animation, publishing, and advertising – I joke that Loblaws is one of my art galleries, with labels for Del Monte, President's Choice, McCain, and many others on the shelves. I have painted highly realistic billboards that have appeared from Hong Kong Harbour to the walls of tall buildings in Toronto. I have published 17 children's books and have an ongoing relationship with a new book about a dog – that resists completion!
I began to draw with mylar and graphite as a result of the need to articulate the emotional and existential fallout resulting from a profound loss. I needed a form that reflected my inner life in a way that my illustration practice could not. Because the nature of the work was very intimate, I had no desire to exhibit. Apart from a one-man show at the Canadian Sculpture Gallery (at the invitation of the director) and a couple of small group shows, I have kept a low profile. Now, at a time of life when many people would retire, I have made my personal work a primary focus.
Contributing Artist in These Exhibits