Claustro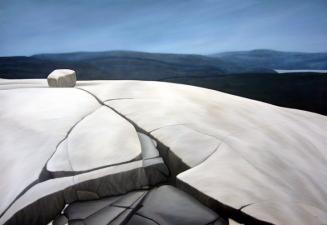 Biography
Carol Currie and Stuart Leggett -- "Claustro"
The collaboration between Carol Currie and Stuart Leggett is a celebration between an artist and a sculptor and their shared love of nature. They hold the intent to create tactile living paintings that invite interactive and intimate experience with the viewing.
Their passion for adventurous trekking and nature offers them an insightful interpretation of nature, which has become the seal of their shared art. Carol provides sketches that are made from a collection of reference photos taken while on trips and together they choose the style of the piece. Stuart starts the wood working process by creating a solid wood panel through a long method of laminating small strips of wood. He develops natural wood grain textures to bring an organic essence to his pieces and compliments this textural components by relief carving and sculpting shifts in planes that cast shadows within the painting. Stuart then carefully protects all surfaces to ensure the panel is of archival quality. This process ensures a stable and permanent foundation for Carol's paints. Carol then applies up to seven translucent layers of fluid acrylics to build illusionary depths in the painting, bringing the sculpture to life.
See a slideshow of the work process here: http://www.claustro.ca/claustro_piece_075/
Their artistic mission is to remove the industrial noises and provide a bond between the seeing and the nature being depicted in the art.
Contributing Artist in These Exhibits